MessageWay
B2B Enterprise Large File Transfer Software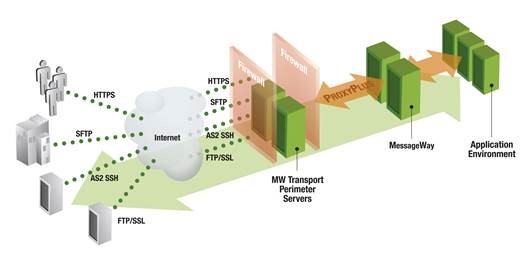 High-Volume B2B Integration and Managed File Transfer
MessageWay complements MOVEit implementations providing support for Linux, Oracle and file transformation capabilities.
MessageWay is an affordable B2Bi solution for the mid-market and departments of large enterprises, offering secure, reliable, high-performance file transfer and integration MessageWay provides B2Bi (Business to Business integration) capabilities without the costs associated with complex solutions designed for Global 500 corporations. It provides immediate visibility and control to support regulatory and SLA compliance. Plus, MessageWay integrates with your existing infrastructures – no rip-and-replace required – and offers the option for do-it-yourself deployment, integration, and upgrades.
Secure, reliable, high-performance file transfer and integration
MessageWay meets the needs of both the mid-market and departments of large enterprises to reliably and
securely deliver even hundreds of thousands of transactions per day. Companies bet their businesses on
MessageWay because it is simple to get started, but scales to meet resiliency and real-time transactional
demand. To meet today's SLAs, MessageWay offers clustering, load balancing, high availability and disaster
recovery and enables reliable operations via centralized control over all file transfer and processing. The
system also makes it possible to direct actionable files to specific business applications precisely when they're
needed to eliminate bottlenecks that can slow delivery.
MessageWay supports a broad range of enterprise security policies from simple to complex, such as
enforcing that there will be no data at rest in the DMZ and requiring FIPS 140-2 encryption. The system
integrates with standard authentication methods and allows central management of users and groups.
Combining scalability and security with affordability, MessageWay flexibly supports the operations of the
world's largest payment processor as well as the everyday operations of mid-market companies.
Immediate visibility and control to support regulatory and SLA compliance
MessageWay coordinates and monitors all file transfers even across multiple servers and multiple domains in
real time, helping organizations meet regulatory and audit requirements such as SOX, HIPAA, and PCI-DSS.
The software comes with "one-click" file lifecycle reporting that provides centralized visibility into the full file
transfer history.


Meets the Most Stringent Security Controls
Whether receiving files from your trading partners or 'pushing' files to them, data is securely streamed through your DMZ without the need to store data even temporarily in less secured zones of your multi-tiered network.
Real-Time Control and Visibility
Get centralized control over provisioning, scheduling, routing and tracking of all message activity. Configurable notifications and alerts provide visibility to operations at any moment in time. Easy-to-use tools enable intelligent workflows and control for unique processing requirements.
SOA Integration, Command Line or Script
SOAP/REST web services interfaces provide lightweight access to core MessageWay services and data repositories. Additionally, you can implement loosely coupled custom processes via command line or scripts for rapid migration and deployment. 
Compliance and Accountablility
"One-click" tracking displays a comprehensive file history that supports regulatory and audit requirements in real time. Uniquely, MessageWay supports retrieval of all parent-child related messages and documents file state changes to ensure compliance with regulations such as Sarbanes Oxley, HIPAA, and others.
Extensive Infrastructure Integration
MessageWay easily integrates with your existing infrastructure providing SOAP and REST based Web Services APIs and adapters for IBM WebSphere MQ and IBM Sterling Connect:Direct. It integrates with existing middleware and business applications such as IBM, Oracle, SAP and TIBCO. Platform support includes UNIX, Linux, and Windows.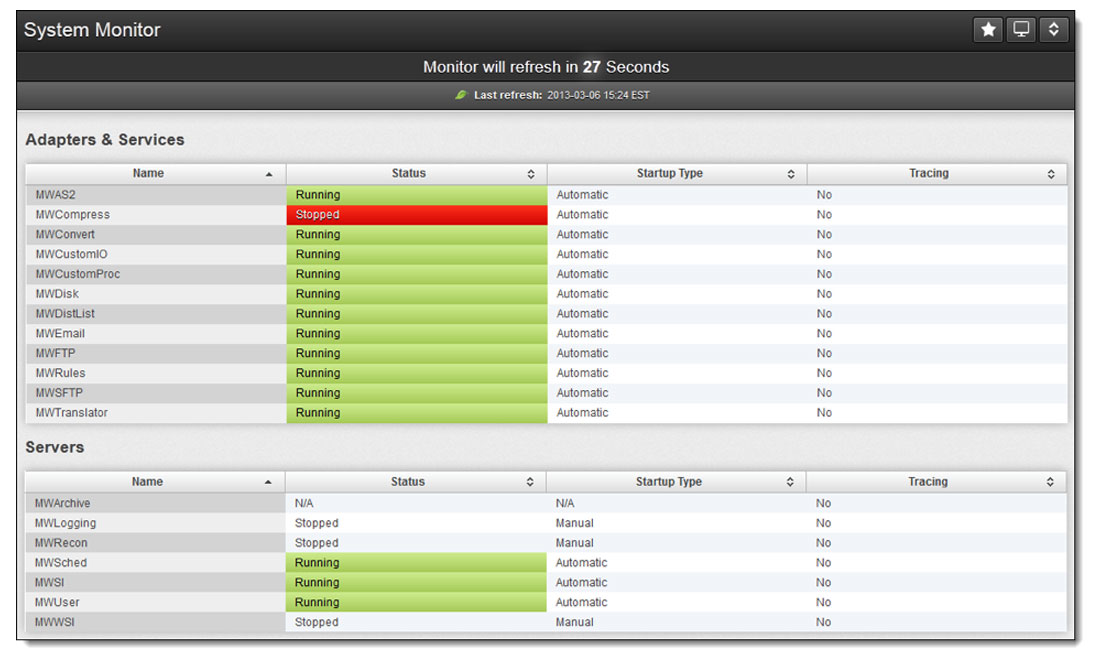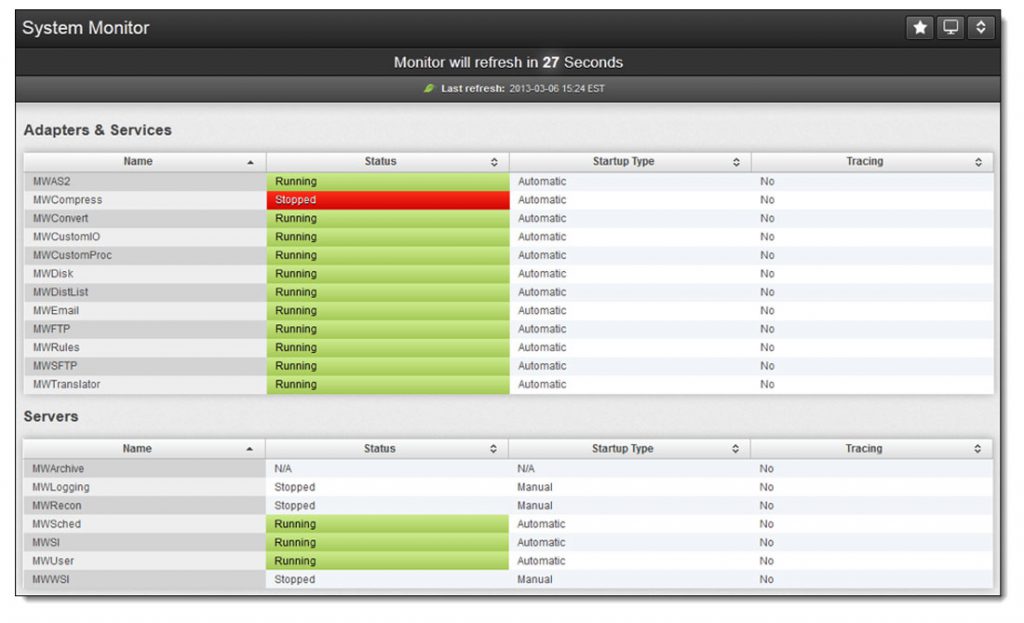 Transformation of Files and Messages
Leverage data transformation for destination-ready file delivery (flat files, XML, X12, EDI, AS2, ERP, SWIFT, ACH, HL7, BA12, and proprietary). Transfer files using any supported protocols and messaging infrastructure: FTP, FTP/SSL, SSH/SFTP/SCP, HTTP/HTTPS, AS2, SMTP/POP3, IBM Sterling Connect:Direct, and IBM MQ.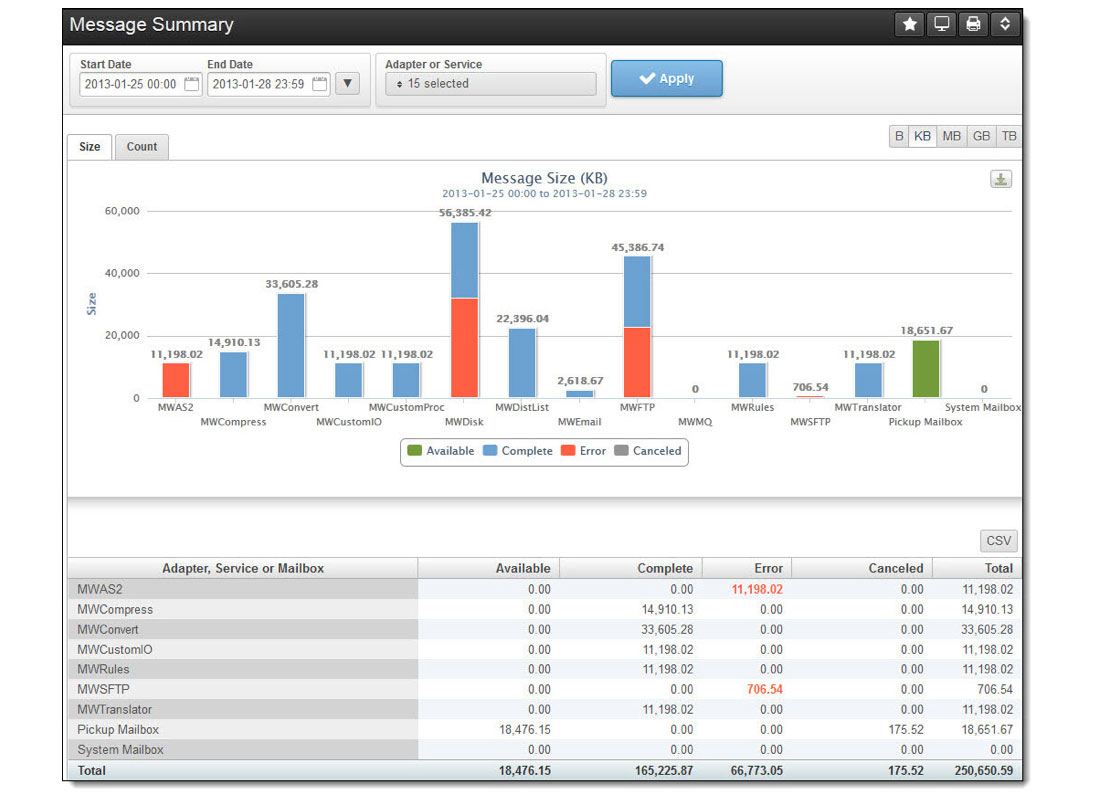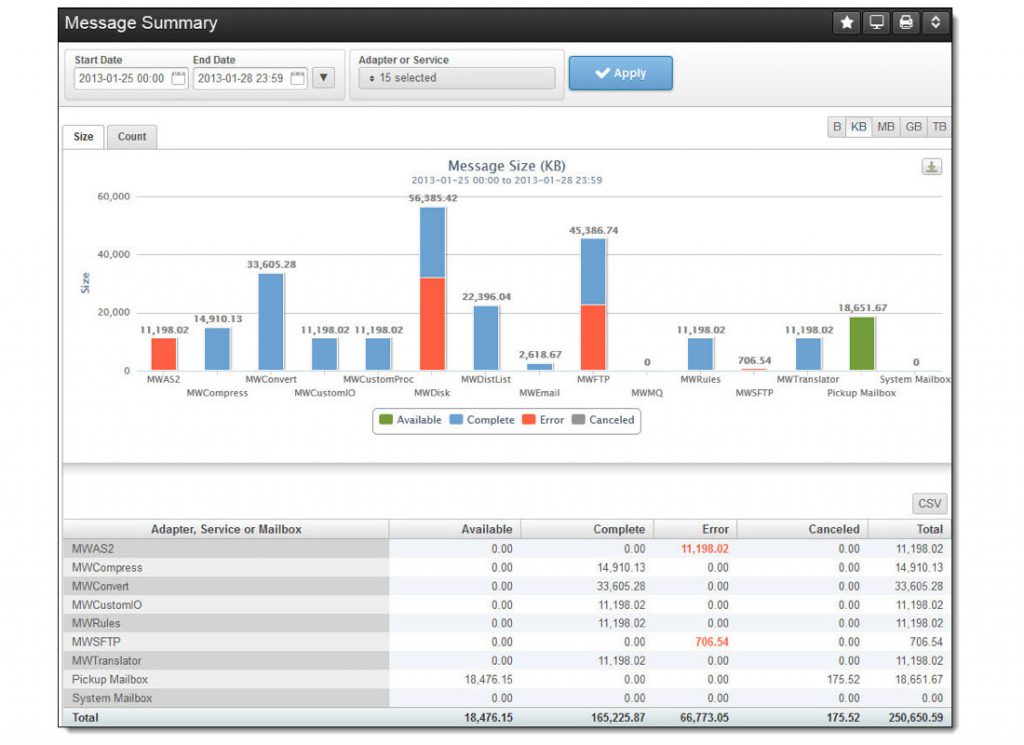 KEY COMPONENTS OF MESSAGEWAY
› Secure, reliable, highperformance file transfer and integration
› Immediate visibility and control to support regulatory and SLA compliance
› Sophisticated workflows to streamline critical business interactions
› Integration with existing infrastructures – no rip-andreplace required
› Transformation of files and messages
› Option for DIY – deploy, integrate, and upgrade yourself – no need for a busload of consultants