Flow-Based Network Traffic Analyzer


The Best for Ethernet Field Troubleshooting
Part of Profitap's family of portable and compact troubleshooters, ProfiShark series are dedicated network TAPs for network monitoring, traffic capture and analysis. Based on FPGA and USB 3.0, they are a perfect blend of performance and flexibility.
A ProfiShark is equivalent to an aggregator TAP and two NICs, all-in-one in a pocket-sized box, the only additional hardware required being a laptop or desktop PC with a free USB 3.0 port.
Quickly Pinpoint Network Problems
Networks often get overloaded even though there is more than enough bandwidth available. Upgrading your network for extra bandwidth is far from a good solution, because it doesn't solve the root cause of the problem. Something is eating up all the bandwidth, you have no idea what, and you need to find it out as quickly as possible.
To accurately track down these issues, you must know who is communicating with whom, with what devices – or end-points, and which protocol. In other words, you need to quickly and efficiently monitor the flow of the network.
Our Flow-based Traffic Analyzer, ProfiSight, provides a complete overview of what is happening on your network, with a level of visibility that is essential to efficient network troubleshooting and performance diagnostics analysis.
Integrated with ProfiShark, you will have quick, complete access and visibility into the traffic that matters, helping you resolve intermittent network performance problems and ensure Quality of Service (QoS) of your network.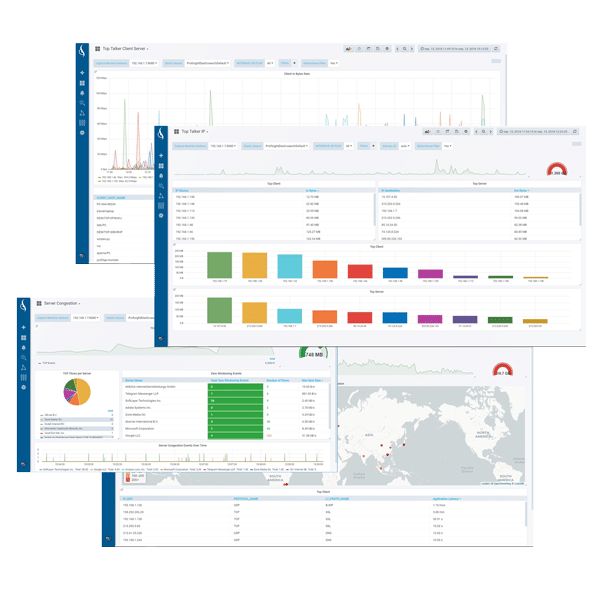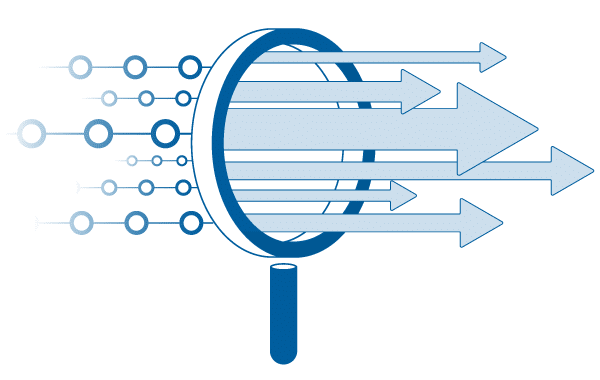 Fast drill-down to the source of the issue
ProfiSight allows you to quickly view flow data by extracting the metadata of a captured packet stream with ProfiShark or another source of capture files. You can get an overview of the main talkers in a few clicks and determine if they are a security or performance issue.
Choose how your data is presented
ProfiSight offers a range of customizable dashboards with an accurate overview of your network bandwidth utilization, application usage and statistics, LAN and network, talkers and conversations, performance and errors, user activity, and more.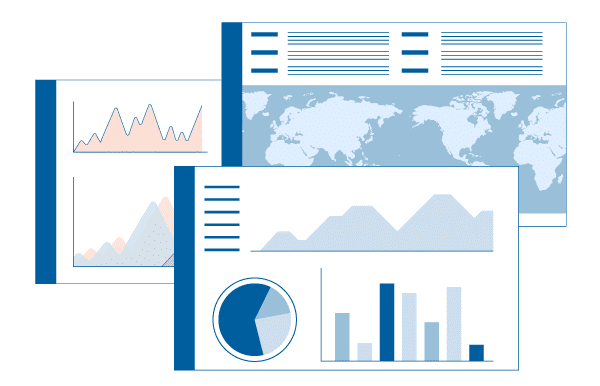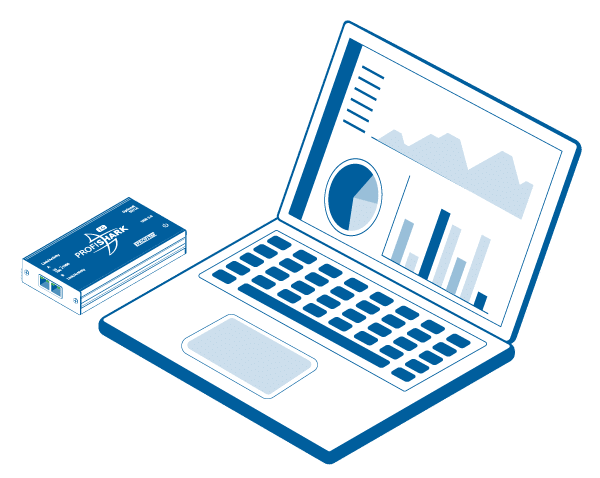 Full integration with ProfiShark
Combine the power of a portable capture device with ProfiSight to capture every packet on the line and get a complete overview of the network for in-depth analysis. You can easily connect to your ProfiShark remotely so that you can track down network issues anywhere, anytime.*
*No on-site assistance required.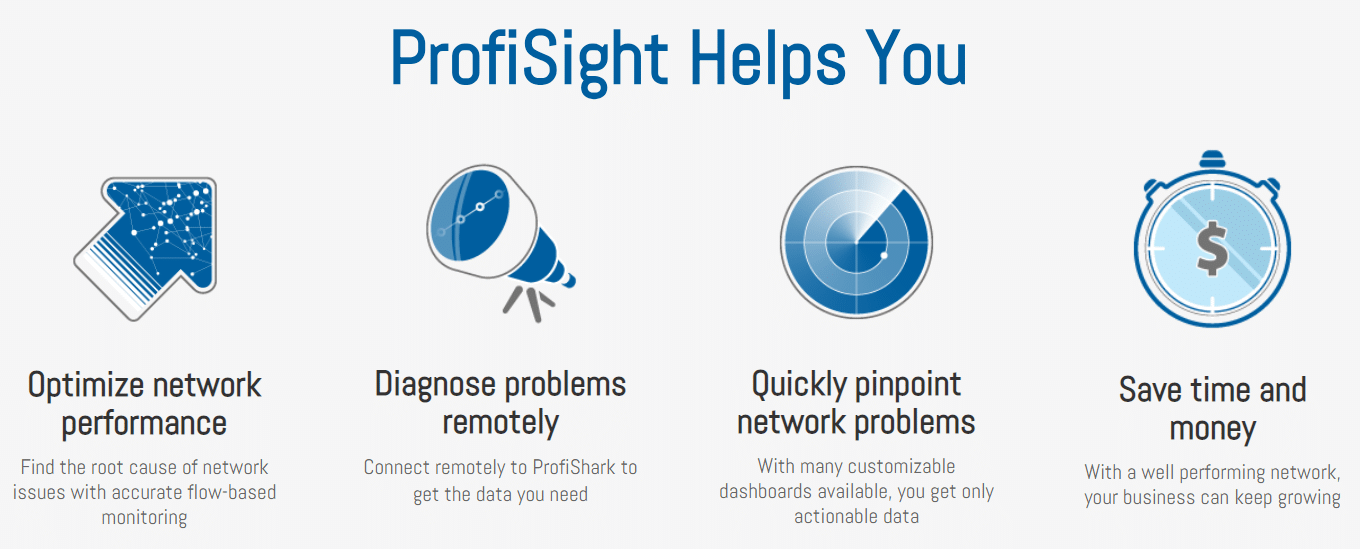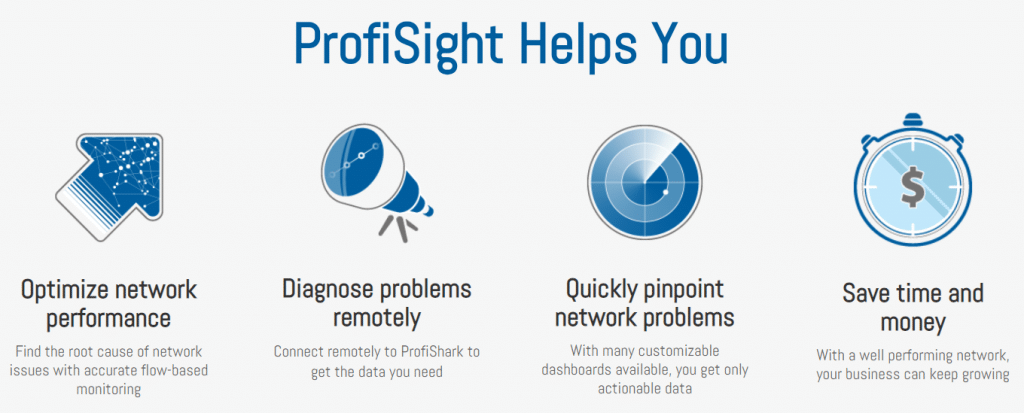 Dashboard Coverage
Bandwidth Utilization
Microbursts, statistics per host, statistics per L4 and L7 protocols
Packet statistics
Counters for packets in/out, bytes in/out, size distribution
IP statistics
Sources and destinations, geolocation
Flows
Flow counters per interface, active flows, statistics per flow like usage, protocols
Hosts
Top talkers, statistics per host
TCP indicators
Flags, lost packets, retransmissions, zero windowing
Latency
Network and application latency, per server and location
Layer 4 protocol statistics
Most used ports, TCP vs UDP, and others
Protocol specific dashboards
DNS, HTTP, SSL, and others
Network overview dashboards
Discover, home dashboard
System Requirements
SOFTWARE REQUIREMENTS
OS
Windows 10, 64-bit
Linux Ubuntu Family, 64-bit
Browser
Google Chrome (recommended)
Mozilla Firefox
Microsoft Edge
HARDWARE REQUIREMENTS
Minimum Requirements
CPU: Intel Dual Core 2.4 GHz or equivalent
RAM: 8 GB
Recommended System
CPU: Intel Quad Core 3.0 GHz or equivalent
RAM: 8 GB or more